DPH2001
DisplayPort to Dual HDMI Graphics Splitter
Product Description
SUNIX DPH2001 DisplayPort to Dual HDMI graphics splitter lets you combine two HDMI monitors as one display, at a maximum resolution of 3840×1200, to make the ultimate wide screen desktop. This graphics expansion module can also clone your primary display and function as a 2 Port HDMI Video Splitter.
Compatible with a DisplayPort video card, SUNIX DisplayPort to Dual HDMI graphics splitter dongle requires no software installation for multi-display applications, plug-n-play, simplifying configuration and saving time. It works for standard Microsoft Windows PC with DisplayPort connectivity.
*Disclaimer: Unit may need additional power to operate. A USB Micro-B, such as those used to charge Android devices, can be used to supply extra power to the unit. However; this cable is NOT provided with the unit. Please read Note* in Specifications for more information.

Features
Ideal for multi-display and TV-Wall application.
Works with any desktop or notebook computer which has DisplayPort output connectivity.
Enable 2 HDMI monitors working simultaneously with video mirror or extension mode.
Fully HD compatible and provides full display performance with virtually zero latency and no display application limitations.
Compatible with DisplayPort v1.2 / 1.1a, HDMI™ v1.4b, VESA DDM, and EDID v1.4 Standards.
Supports exceptional Secured Content Protection with HDCP 1.3 for digital content.
DisplayPort link rates of 5.4Gbps (HBR2), 2.7Gbps (HBR) and 1.62Gbps (RBR).
Supports kinds of HDMI video dongles converting to DVI or VGA output connectivity.
Driver Free, Plug & Play without configuration.
Certified by CE, FCC, VCCI, BSMI, C-Tick, and RoHS.
Application 1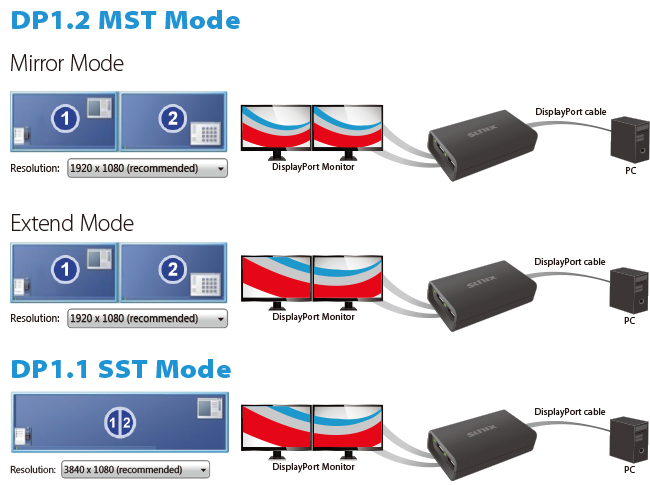 Specifications
 Model
 DPH2001
 Description
 DisplayPort to Dual HDMI Graphics Splitter
 Interface
 DisplayPort™ v1.2 / 1.1a, HDMI™ v1.4b
 Video Input Connectivity
 DisplayPort™ v1.2 / 1.1a Female (Left Side)
 Reserve Power Input
 USB Micro B +5VDC@500mA (Right Side)
 Video Output Connectivity
 HDMI™ v1.4b Female x 2
 Audio Output Connectivity
 Digital Audio output over DisplayPort by HDMI output
(Audio channel selected over Windows Audio control panel)
 Resolution Support

Two Monitors

Computer Settings
Each Monitor
3840 x 1200
1920 x 1200
3840 x 1080
1920 x 1080
3360 x 1050
1680 x 1050
3200 x 1200
1600 x 1200
2800 x 1050
1400 x 1050
2880 x 900
1440 x 900
2560 x 1024
1280 x 1024
2048 x 768
1024 x 768
1600 x 600
800 x 600
1280 x 480
640 x 800
* Notes
 Power Consumption
 2.1W
 Case Material
 ABS
 Weight
 65g ± 2g (2.3oz)
 Dimensions 
 92.5×60.5×22.0mm
 Regulatory Approvals
 EUR: CE, EN55022 Class B, EN55024, EN61000-3-2, EN61000-3-3
US: FCC Part 15 Class B
TAIWAN: BSMI: CNS13438
AS/NZS: C-Tick: CISPR22
JAPAN: VCCI
 O.S. support
 Windows XP/2003/Vista/7/2008/8/8.1 (32/64-bit)
 Environment
 Operation temp. 0 °C ~ 40 °C (32-104°F)
Operation humidity: < 85% non-condensing
Storage temp. -10 °C ~ 85 °C (14~176°F)
Note:
1: Based on a Vertical Refresh Rate of 60Hz.
2: GPU dependent. EDID (Extended Display Identification Data) maximum resolution capabilities may differ from GPU capability.
3: Tiny Universal DisplayPort Graphics Splitter does not support MAC system without NV or AMD graphics card built-in.
System Requirements
Intel PC base computer with at least one available DisplayPort.
Monitors with HDMI connections.
Disclaimer
Unit may need additional power to operate. Additional power can be provided to the unit via Micro-B USB port +5VDC connection. Micro-B USB cable is NOT provided with the unit.
Note*:
This product requires power to operate. Generally, when connecting to one to two monitors, the power supplied from the computer should be enough to power the unit and to have a stable connection between the monitors and this unit. However; sometimes the unit may need more power in order to function properly, such as when connecting to more than two monitors, or when the monitors require too much power then what can be provided from the connection from your PC alone. In this regards, the unit has a reserve power connection. The power connection is for a Micro-B USB port +5VDC cable, such as those to power Android products. Unfortunately, we DO NOT provide this power cable with the unit.
One DisplayPort Graphics Splitter
Quick Installation Guide
1 to 1 Standard-DP Male cable